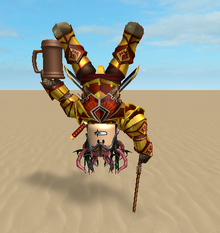 Sir Super is a primary protagonist of Knights of RedCliff: The Series.
Sir Super (full name Jason Super) is a Master Ranger (previously Enchanted Knight), and likes to fight. His favored weapons are the Linked Sword, RedCliff Sword and Shield, and the RedCliff Bow. His companions are Sir Buck and Asantias.
Personality
Edit
He is strong and adventurous, and very curious. He thrives to be advanced in every event during trainings, and especially loves sparring with both blade and bow. He can sometimes be humorous, but prefers to joke at the tavern with his friends.
Appearance
Edit
He has black hair underneath the hats he has on, and always seems to have shiny teeth, and he also wears RedCliff Elite Commander armor, despite not being an Elite Commander.
He is a little more skilled than Sir Buck when it comes to the Linked Sword, and has the same level of Sword and Shield and Bow skill. He is a higher rank than Sir Buck in Knights of the Splintered Skies, and the same rank as him in the Wizards of the Astral Isles.
Clans and Ranks
Edit
Knights of RedCliff - Master Ranger (High Rank)
Knights of the Splintered Skies - Dragon Knight
Wizards of the Astral Isles - Archivist (High Rank)
ROBLOX Player
Edit
The ACTUAL player of Sir Super is supersainjason05.